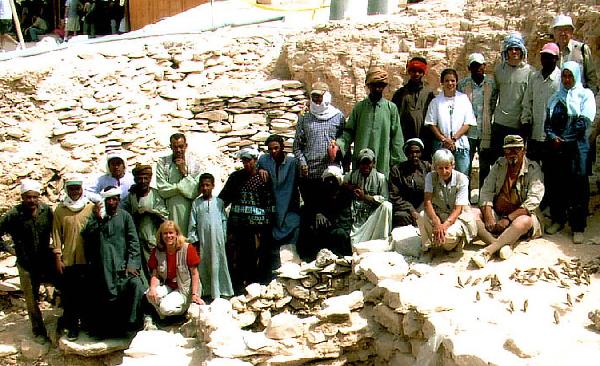 The 2005 group photo of the KV-63 staff present when the shaft was discovered March 10th 2005 of last year. In order from left to right: Reis Nubi abu el Basit (3rd front), Roxanne Wilson, Betty Schneider, Heather Alexander (back), Dr. Otto Schaden, Alistair Dickey (back), Inspector Zeinab Ali Mohammed abd el Kader, and George Johnson (back).
Left-Click on images to enlarge
| | |
| --- | --- |
| View of the Valley of the Kings in front of KV-10 and KV-63 (KV-62, the Tomb of Tutankhamun is located on far right) | Workmen's huts with KV-63 depicted under the sandbags |
| Workmen's Huts over the KV-63 shaft | Group photo of the original staff members present during the initial discovery of KV-63 on March 10, 2005. |
| The director, Dr. Otto Schaden standing in KV-63 shaft | Initial KV-63 shaft at surface |
| KV-63 shaft deepens as excavation progresses | KV-63 shaft fully excavated |
| Akhmed, Alister Dickey, Reis Nubie and Dr. Schaden peering into KV-63 for the first time | KV-63 door partially blocked with stones |
| February 10, 2006~~Dr. Zahi Hawass officially proclaims KV-63 | 'A New Tomb is Discovered' - Media Day at KV-63 |
| KV-63 Tomb interior depicting coffins and storage jars | Close up of the face on the first coffin in KV-63 |
| Large Sealed Storage Jars | Broken storage jar in KV-63 |
| The smaller, youth coffin in KV-63 | Earl and Otto Congratulating each other on the New Discovery 2/5 |
| | |
| --- | --- |
| KV-63 Shaft, Ladder, and Doorway | KV-63 tomb in relation to previously excavated Workmen's Huts |
| Alistair Dickey and George Johnson | Reis Nubi abd el Basit |
| Hoist and Sandbagged Perimeter of KV-63 | Construction of the hoist |
| View of the hoist from the shaft floor | Betty Schneider and Roxanne Wilson labeling Storage Jars |
| Raising a Storage Jar and Basket | Egyptian Workers safely unhooking Storage Jar |
| Workers carefully carrying the heavy jar up the steps | Otto Schaden pictured with the first successfully raised Storage Jar |
| Dr. Zahi Hawass and Dr. Otto Schaden on March 10th | Egyptian Officials and Inspectors |
| Dr. Zahi Hawass | Heather Alexander, Betty Schneider, & Roxanne Wilson being filmed by Discovery |
| Akhmed reconstructing KV-63 pottery fragments | Otto with 'his' Finches |
| A finch feeding out of Otto's hand | Inspector of Antiquities El Nobi Mahmoud Omar |
| Dr. Salima Ikram and Roxanne Wilson examining a Storage Jar | Small clay vessels from a Storage Jar |
| Bill Wilson, Archie Chubb, Earl Ertman (seated) & Heather Alexander | Coffin 'E' |
| Discovery filming Heather, Otto, and Chief Conservator Nadia Lukma | Chief Conservator Nadia Lukma and assistant Amani |
| March Group Photo | Bill Wilson and Archie Chubb opening a jar |
| Recorder Betty Schneider in front of Coffin A's Mask | Rita Freed touring KV-63 |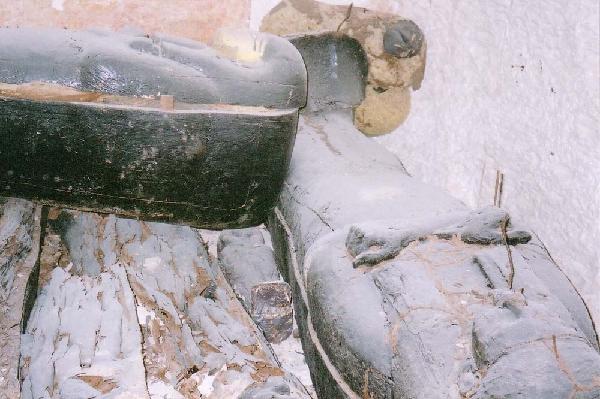 The tiny infant coffin situated under the head of the Youth Coffin 'G'.
Unauthorized publication of content or images of this website is specifically prohibited without prior written permission from the KV-63 Webmaster. Questions or Comments? Please contact roxmaat@kv-63.com